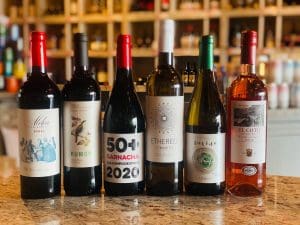 Let's tour Spain the easy way!
Your June Wine Club is underway…
Old Vines and unique varietals are here to chase the clouds away! 
50+Garnacha, Campo de Borja
A beautiful Grenache produced from over 50 year old vines, fermented in modern stainless steel tanks and aged 4 months in oak!
It's fresh with dark, rich berries-Clean and smooth with hints of black pepper, bacon and smoke! A solid structure with sweet tannins and a rosemary and thyme finish. It's the perfect accompaniment with your outdoor BBQ memories! 
Rumor Old Vine Monastrell, Jumilla 
A juicy red with sweet floral sensations delivered by the grapes' perfect ripeness! Take a plunge into ripe raspberries, plum
and black berries, swimming alongside playful violets that splash in the background! Featuring elegant tannins with a long, persistent (and very pleasant) velvety finish! Lovely all by itself; pair easily with charcuterie, pork, taco salad and Carne Asada! 
Aldea Los Marcos Bobal, DOP Valencia
Old Vine, Made with organic grapes 
Bold with cherry and blueberry scents with peppery nuances. 
Dark rich fruit and spice cake flavors are followed by a long finish with a hint of licorice and succulent herbs! Malolactic fermentation in stainless steel vats and subsequent transfer with the lees for 5 months of ageing before bottling in a 5,000-litre French oak Foudre.
This bad boy competes for attention! Enjoy with roasted chicken or beef and hearty stews! 
Ethereo Albariño, Rías Baixas
"Delicate, exquisite, dainty, elegant, graceful"
Bright color with notes of tropical fruits on the nose, including pineapple and passion fruit! Citrusy and slightly grassy on the palate yet creamy density with a long clean finish. Pair with cedar plank salmon, grilled fish, shellfish, salads and poultry dishes! 
Latido de Sara Garnacha Blanca, Navarra
A lively straw yellow color with shiny tinges! Refreshing with citric aromas with a touch of mint, alongside hints of aniseed. 
Full mouth flavor with a good balance between the fruit and acidity! The finish is very creamy! Enjoy with hors d'oeuvres, soup dishes, as well as all sorts of fish and white meat.
-JS 90
El Coto Rosado, Rioja 
95% Tempranillo 5% Garnacha 
It's salmon pink color is the result of a short skin maceration. 
Fermented at low temperatures to maximize the strawberry and red currant aromas, on the palate the wine is powerful with fresh aromas and ripe fruit! Just chill and serve! 
Summer days and nights are meant to be enjoyed with every sip! 
We're here to accommodate, stop on in! 
OPEN 7 days a week!!
Mon-Fri: 12-8, Sat 12-7, Sun 12-6!
Cheers! 
-AK Wine Grotto Team