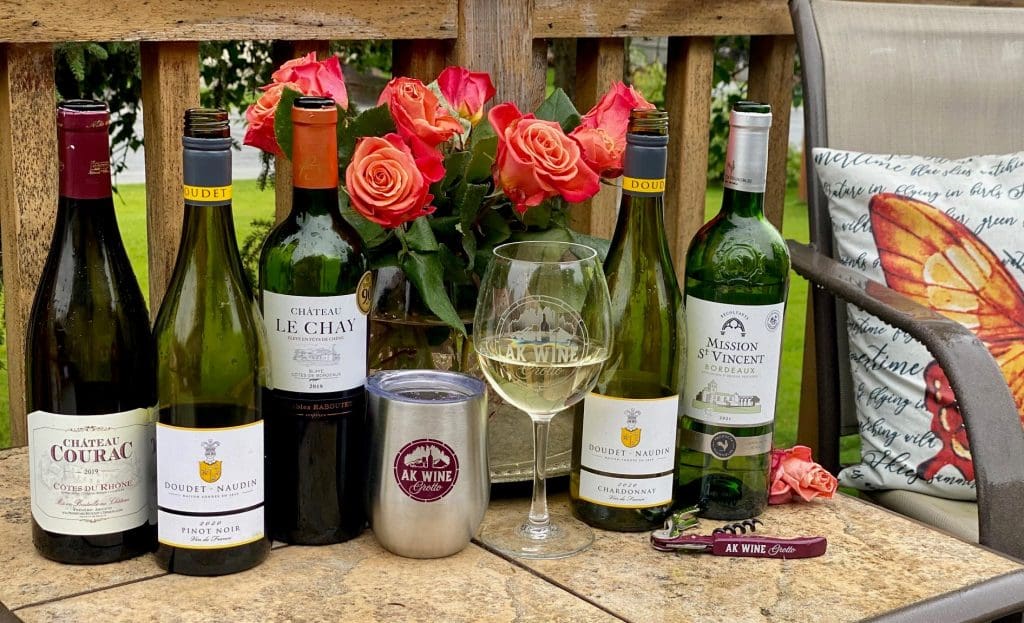 Garden Party Time! 
Rain or shine, July Wine Club is outta sight!
Like sunny days in Alaska-
French cuisine & wine never go out of style!
Pour a glass and try out a few new recipes too!
Doudet-Nadin Pinot Noir, Burgundy
Featuring plum, black tea & vanilla;
the palate is loaded with forest fruits and bright,
well-balanced acidity!
Tannins are lightly sandy throughout, offering a good base with pepper and natural wood flavors-a finish that never ends!
*90 pts, Wine Enthusiast
Serve slightly chilled and enjoy with soft,
nutty cheeses-such as gruyere, brie, and goat cheese.
Also pairs with lamb & roasted meat.
We suggest a rustic style pizza, like roasted Brussels sprouts
and cremini mushroom! DELISH
Chateau Courac Côtes du Rhône
55% Syrah, 30% Grenache, 5% Carignan
Inviting aromas of ripe blackberries, blackcurrants and
touches of violet on the nose; while raspberry and red-plum
flavors are glossy and pure, dancing across the palate!
Notes of granite and peppery spice accent
the soft, silky tannins for a full-bodied embrace.
*91 Pts, Decanter
Just cozy up with French Onion Soup!
Chateau Le Chay, Blaye-Côtes de Bordeaux
85% Merlot, 15% Malbec
This cuvée offers an intense rush of
black-plum and rich red fruits, spice, vanilla and toasty layers!
With its silky texture and juicy acidity,
the wine has a sumptuous, generous mouthfeel.
*90 Pts, Wine Enthusiast
Serve it classy with Beef Bourguignon!
Beef Bourguignon Recipe - NYT Cooking
Doudet-Naudin Chardonnay
Richly suggested aromatics of Naval orange and marigold combine with an explosion of mandarin and apricot,
with zesty lime-juice acidity-squeezed at the end!
Completely rounded, leading to a dry, lush-tugging finish.
*89 pts, Wine Enthusiast
Enjoy with Chicken Cordon Bleu or Quiche Lorraine!
Crispy, Creamy Chicken Cordon Bleu Recipe by Tasty
Classic Quiche Lorraine Recipe - NatashasKitchen.com
Mission St Vincent White Bordeaux
Bursting with fresh floral and citrus notes;
perfect all by itself (as an after-work treat!)
or pair with salads, seafood and Asian cuisine!
Cheers & Bon Appétit!