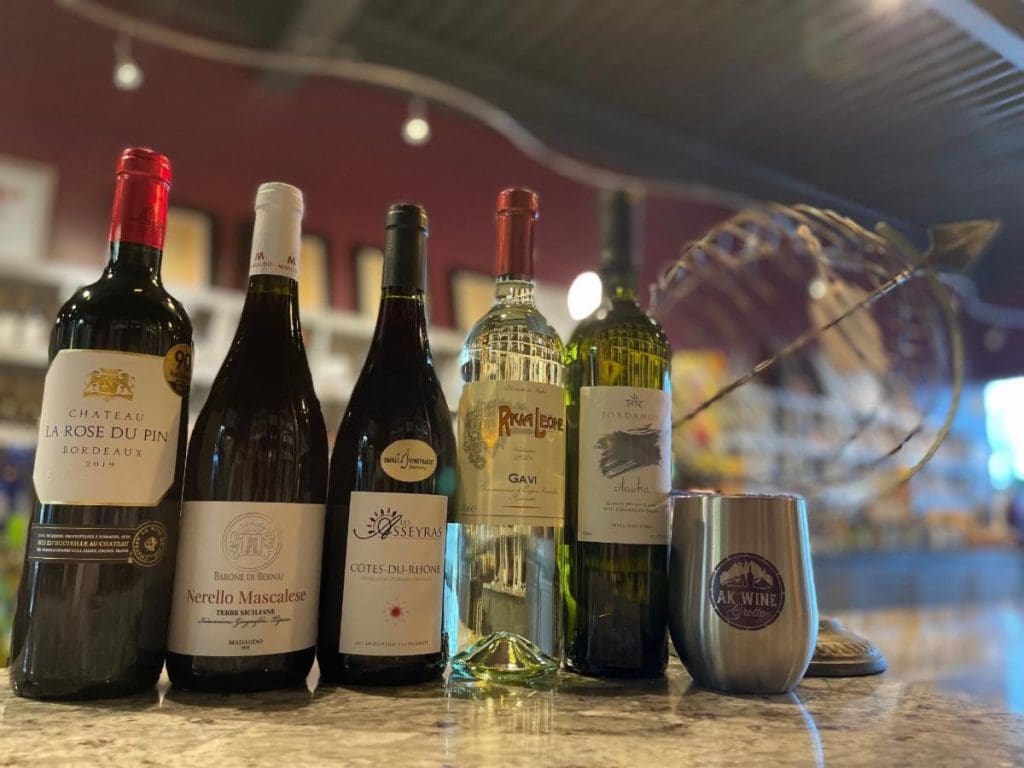 Old World meets YOUR world this month,
as we explore Italy, Francé & Macedonia!
Unique varietals to broaden our horizon;
With exquisite taste promising-let's stimulate the palate!
Cantine Madaudo Barone di Bernaj, Italy
Nerello Mascalese Terre Siciliane IGT
Dark plum and cherry fruit play second fiddle
to both the wine's structure and earthy tones.
Unoaked, delivering firm tannins and
plenty of terroir with hints of smoke.
This Nerello Mascalese is a GAME CHANGER!
Perfect for pairing with anything off the grill-from filet mignon
and lamb kabobs to an earthy Portobello mushroom!
Les Asseyras Cotes du Rhone Rouge, Francé
60% Grenache
30% Syrah
10% Carignan
Tending vines that grow on an ancient riverbed, fourth generation producer Etienne Blanc takes pride in three things: protecting the environment, honoring his dad's memory, and making small batch wines that sing of the sub-alpine Rhône!
25 year-old vines lend themselves well to a CDR that is
soft, well-integrated, and fruity, with flavors of currant, plum,
mineral and spice!
This Rhône FEELS LIKE HOME!
Chateau La Rose Du Pin Bordeaux, Francé
50% Merlot
50% Cabernet Sauvignon
*90 points, Wine Enthusiast
Bright crimson in color, opening with intense aromas of cherry,
red fruits and chocolate!
A gentle, supple attack with volume and body on the mid-palate, with a nice balance of fruit, toasted almond and vanilla!
A fine, HARMONIOUS wine!
Enjoy with charcuterie, tapas, red meat, white meat and cheeses!
Riva Leone Gavi DOCG, Piedmont, Italy
Cortese grapes cultivated on the hills in the village of Gavi.
Suggesting notes of forest floor, herb and spice; silky soft
and textured, showing depth and grace!
Fine-grained tannins support it all,
Lovingly hangs on the finish!
This ELEGANT wine is perfect with starters, salads and fish dishes!
Jordanov Zilavka, Macedonia
Over the years, Zilavka (pron. "jhee-lahv-kah") from Herzegovina has trekked it's way over the mountains of Kosovo and Montenegro to land in the hot, fertile plains of North Macedonia. This intriguing grape variety is high in natural acidity but ripens quickly, so it takes a steady hand and a watchful eye to mine it for all its potential.
Hitting on all cylinders with a pale lemon yellow color, a sea of warm citrus and wildflowers!
It's ZIPPY with layers of citrus, green peach, and minerality!
Just a hint of sweetness that kisses on the end!
Say GOODBYE to relenting snow,
With April Wine Club and SPRING hand in hand…
Take the reins and let a NEW chapter commence!
Cheers!