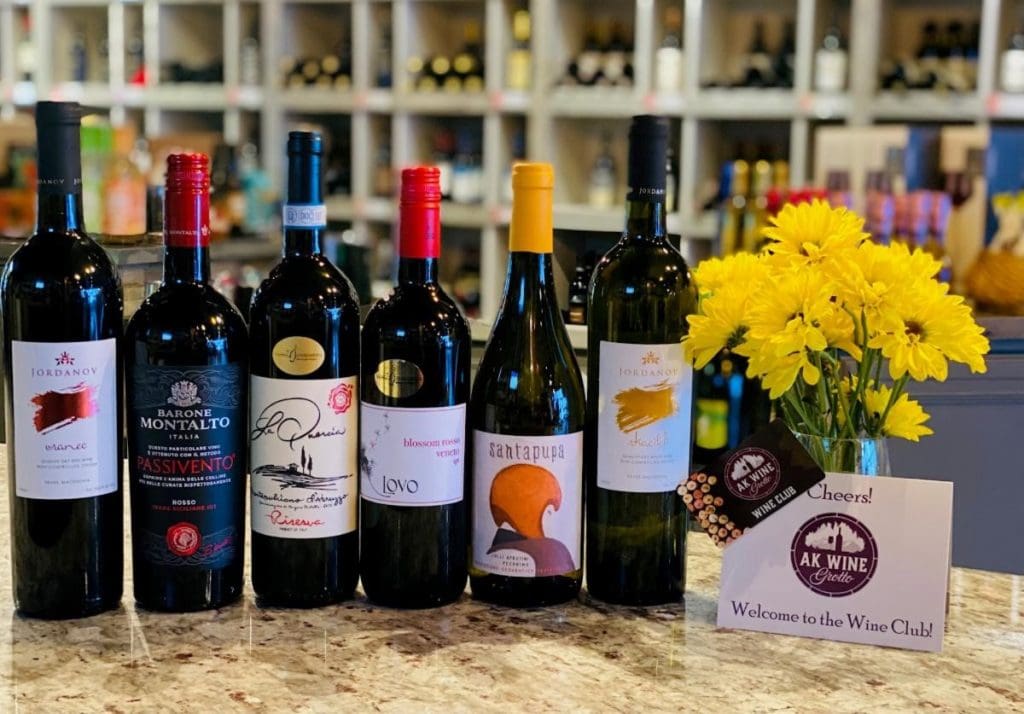 Love the WINE you're with!
Holidays are over, the snowy days are STILL here…
Yet Alaskans are TOUGH- we know how to recover!
Grab a corkscrew and light a FIRE!
Your February Wine Club is BURNING with desire!
Jordanov Vranec, Macedonia
Indigenous to North Macedonia, Serbia and Montenegro, Vranec (pronounced "VRAH-netz") is a thick-skinned grape with high tannins and medium-high acidity.
Translates as 'Black Stallion' because of its forceful character and rich coloring!
Tamed by low yields and 35-year old vines; this lip smacking rendition of an East European classic is farmed "high and dry", in rich clay soils that support its vibrancy and overall bone structure.
A remarkably expressive wine with concentrated, dark blackberry and tobacco aromas with earthy notes and cherry pie that lead to a long, smooth finish.
Excellent with smoked or grilled meats & prime rib!
La Quercia Montepulciano d'Abruzzo Riserva
Derived from 40+ year old vines and strictly organic farming.
Medium bodied with velvety tannins seduced by roses and kirsch.
A gorgeous mix of brambly forest fruits and cocoa-dusted plum; shaded with notes of warm wood,
balsamic, crushed rosemary and herbs.
Enjoy with pizza, lasagna or meatloaf!
Barone Montalto Passivento
The passivent method involves the partial drying of the grapes directly in the vineyard, which is then completed in the fruit cellar, where the skilful control of the ventilation helps the grapes to reach the ideal level of dehydration before pressing.
Made from 100% Nero d'Avola grapes, a full-bodied and persistent red wine is born!
With an opulent nose of candied figs and ripe fruit; it is balanced & deliciously smooth!
A beautiful accompaniment with aged cheeses or strong flavored courses such as game or stews!
Lovo Blossom Rosso
This unoaked red blend from northern Italy may be light-medium in body but it comes with plenty of vibrancy and tannic zip to get your heart racing! Layers of dark plum, cherry, violets and sage.
Serve slightly chilled with pork, salad, BBQ or pasta!
La Quercia Santapupa Pecorino
Well-structured and approachable, this unoaked white is perfect for fans of Verdicchio and Vermentino! Light yellow with silvery highlights- A thirst quenching abundance of warm citrus,
white fruits, apricot and tangerine! Embodied with floral notes and an herbal touch-the finish is a DREAM!
Jordanov Rkaciteli, Macedonia
(Pronounced "ree-kaht-say-TAY-lee")
A rare grape from the Mediterranean that is a bright, crisp and oh so pleasing!
Aromas of stone fruits, granite and fresh lemon-lime! Enjoy with fish, cheese, friends or fling!
Cheers!