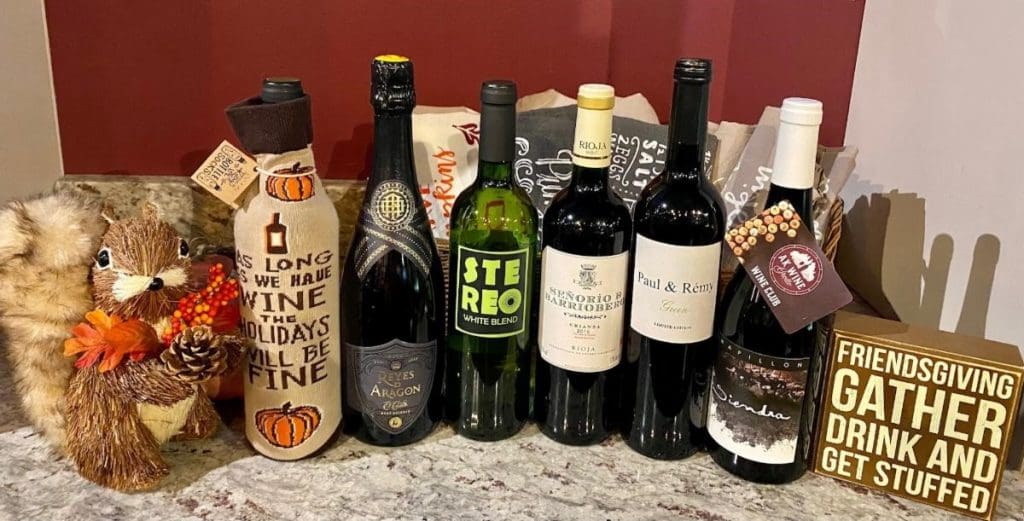 Cheers to NovemBERRR!
Featuring wines from Spain!
Plus gourmet goodies are hitting the shelves…
New Craft Beers, Infusion Kits &
Cocktails to keep you warm & cozy!
Apple Cider Mimosas are easy!
Come by and grab your favorite Bubbly!
Early holiday shopping?!
We got YOU!
Wine Gift Baskets are available too!
Now, without further ado…
Senorio D Barriobero Crianza, Rioja
100% Tempranillo
Only the best grapes selected & oak barrel aged for 14 months!
Brimming with bright red fruits, the bouquet is complex;
prevailing fresh notes with touches of vanilla and pepper.
A classic, fruity styled red wine that'll pair easily and sumptuously!
Paul & Remy Green Limited Edition, Aragon
Organic Red Blend, aged 6 months in French oak
Pomegranate red with aromas of raspberry, red plum and cherry; slightly smoky with sage & eucalyptus nuances.
Pair with all kinds of meats; veal, lamb, pasta & stews
"Lots of blueberry and chocolate character with medium to full body, firm tannins and a fruity finish. Well done.
From organically grown grapes."
*90 points, James Suckling
Siendra, Chapillon
80% Old Garnacha 7% Syrah 7% Cabernet 6% Merlot
From the heart of Calatayud in North-East Spain, this Old Vine Garnacha blend is filled with rich &
ripe dark fruits with a braised, meaty edge.
The palate is dense with plum and laid-back tannins.
It's bold and convincing with a stony finish!
Pair with roast beef, grilled pork chops, roast lamb,
and bison burgers!
Stereo White Blend
50% Airen 25% Viognier 25% Sauvignon Blanc
A fresh & lively white blend!
Pleasure all the senses…
Aromatic, flavorful, and DIVINE!
Turn up the volume,
'Cuz 'Stereo' is offering surround sound!
Reyes D Aragon El Casto Brut Reserva Cava
75% Macabeo, 25% Chardonnay
Straw color with steely reflections.
Fine bubbles in continuous strings form a crown on the surface!
Reminiscent of a variety of tropical fruits (passion fruit, mango), along with aromas of freshly baked brioche, honey and nuts.
Ideal as a welcoming glass for the holidays!
Enjoy with hors d'oeuvres too; unctuous!