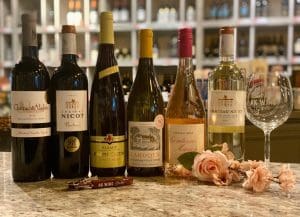 Who's ready to FALL in love? 
Grotto members will be swooning over our September Wine Club! 
As the French would say, "Savoir Vivre!" 
Come join us on this adventure…
Taste, observe and experience the good life and
enjoy ALL the best it has to offer!
Chateau des Aladeres 
45% Carignan 35% Grenache 20% Syrah
Aged 12 months in stainless steel tanks
A fresh & intense nose evokes ripe red berry fruits while hints of herbs are highlighted by a dynamic and delicious finish! 
Pair with grilled meat, stuffed mushrooms, eggplant and sundried tomatoes, or Lamb Croustade
"Sappy and spicy, this smoky Corbières has breezy freshness
that makes it compelling. It's also salty and savory,
with black-olive fruitiness and a backbone of
acidity that keeps the wine firm." 
*92 points, Wine & Spirits 
Chateau Nicot Bordeaux 
70% Merlot 30% Cabernet Sauvignon 
Featuring an abundance of dark fruits and spices; well balanced & structured-
It's smooth & sultry by nature! 
Will pair nicely with rich foods including Golden Chicken Pasta
or Devil's Food Cake! 
"This is a balanced, smoky wine with bold tannins and black currant fruits already in harmony. From vines in the heart of the Entre-deux-Mers, it has an fine structure that will allow it to develop further. Drink from 2022."
*91 points, Wine Enthusiast 
Joseph Cattin Pinot Noir
With climates warming across the globe, Alsace is becoming an increasingly engaging option for sensory, tactile Pinot Noir.
This release has the conifer element that is well appreciated in top level Pinot from the area, along with a generous "crunchiness" on the palate. 
(We think everyone will be talking about it!) 
Enjoy big cherry aromas and a touch of spiciness. The palate is dry, with delightful fruity characters and light tannins.
Serve slightly chilled and enjoy with charcuterie and Poached Salmon! 
Laroque Chardonnay
Unoaked, medium-bodied and BURSTING with aromas and flavors of peaches, white flowers, melons, ginger and toasted brioche bun! 
Fresh and lively in the mouth with a bright, acidic backbone. 
Generous length with delicate texture, flinty mineral thread, while creamy notes of vanilla & hazelnut dance from your glass and into the night!
Enjoy solo or with risotto, pasta, sushi, seafood and white meat dishes! 
Comtesse Marion Cinsault Rosé
Cinsault is one of the unsung heroes, giving this wine
its energetic pulse of minerality and juiciness! 
Flavors of rhubarb, pomegranate, and red cherries add depth and complexity to this delightfully refreshing rosé that is grown on ancient volcanic soils in the hills around the Mediterranean coast in the South of Francé. 
Pair with stuffed pork chops, crab cakes & Roasted Brussels Sprouts! 
Chateau Nicot Bordeaux Blanc
Entre-Deux-Mers
60% Sauvignon Blanc 25% Semillon 15% Muscadelle 
Brilliant transparent yellow color with green highlights;
embellished with lemons, grapefruit and white peaches! 
Crisp & fruity on the palate with a silky long finish! It's just SO DELISH! 
Perfect with shellfish, spicy jambalaya or Asian cuisine!