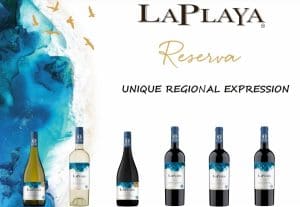 LA PLAYA is a family-owned, certified sustainable, certified vegan, and in partnership with 1% for the Planet, winery located in the Colchagua Valley of Chile.
The LA PLAYA RESERVA line highlights the unique regional expression that Chile has to offer with each variety originating
from one of five estates located in five distinct
growing regions spanning 500 miles in latitude:
Limarí Valley 
Casablanca Valley 
Colchagua Costa 
Colchagua Valley
Cauquenes Valley 
Pinot Noir, Casablanca Valley
90pts Wine & Spirits
Soft ruby-red color with aromas of
fresh cherries and raspberries. 
The palate has notes of red berries,
vanilla, and baking spices
with medium bodied tannins,
and a lengthy finish.
Aged 2-3 months in contact with lees
and 12-months in French Oak
Claret Red Blend, Colchagua Valley
50% Merlot 30% Carmenere 
15% Cabernet Sauvignon 5% Syrah 
Intensely red; with aromas of plum, strawberry, and spices. 
The palate has notes of caramel, vanilla, and raspberry,
with a long, pleasant finish.
Aged 12 months in French & American Oak
Carmenere, Colchagua Valley
Ruby-red; with intense aromas of plum,
blackberry, and toasted oak. 
The palate has notes of pepper, plum, and vanilla;
with a balanced, long finish.
Aged 12 months French oak 
Chardonnay, Limarí Valley
Clean and bright yellow with aromatic notes of
white flowers, peach, and quince. 
The palate has notes of honey and apple
with a long, clean finish.
Aged 10 months, 20% in French Oak
Sauvignon Blanc, Colchagua Costa
Vibrant with and pale-yellow color,
with aromas of lemon and freshly cut grass. 
The palate has notes of green apple, peach,
and lemon with lively acidity.
Aged 6 months in stainless steel
Cheers!