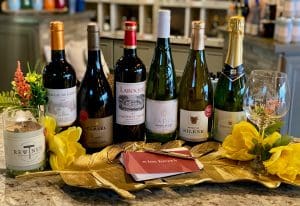 Romance the senses!
Discover and explore a taste Francé…
Château Du Caillau Malbec
Du Caillau which means "pebbles" comes from the Cahors region in southwestern Francé. Wines from this region are made from Malbec and were nicknamed "black wine" by the English during the Middle Ages because of their red-black color. A 30 hectare estate, has been owned by the same family for 6 generations. This opulent wine has rich flavors of blackberries, black currants and spices. Enjoy this full-bodied wine with grilled steaks, lamb, duck, or moussaka!
Domaine Clavel "Cordelia" 
"A blend of 70% Grenache, 20% Syrah and 10% Carignan, the 2018 Cotes du Rhone Villages Chusclan offers scents of garrigue-laced cherries and strawberries. Full-bodied, round and expansive, it shows no hard edges, supple tannins, a creamy texture and finishes with only the merest suggestion of warmth. It should drink well for 4-5 years."
90 pts, Wine Advocate 
Along the right side of the Rhône river, the appellation of Chusclan possesses rocky hilltops and a clay/sandstone bottom. It features a microclimate that is much drier than Saint Gervais, producing powerful and structured wines. A descendant of a family that works the vineyard in Southern Rhone Valley since 1640, Claire Cleveland brings her feminine touch to continue the story of several generations! Enjoy with a duck confit, Coq Au Vin!
Laroque Cabernet Franc
Laroque, which means "the rock" is produced from vineyards located in the hills of the famous ancient fortified city of Carcassone in southern Francé. The grapes used come from vineyards that have been making wine since the 6th century. A crimson robe, the nose of subtle raspberry, rhubarb, spicy, and tobacco aromas. In the mouth, the elegant and silky tannins bring a very feminine touch to this wine. Laroque Cabernet Franc is a special wine that defies competition. It is unique in its combination of concentration of fruit, attractive aromatics, and body. Serve it with tagines, oriental dishes, pasta, poultry, barbecue, red meat, and cheese plates.
Jadix Picpoul de Pinet Vegan 🌿 friendly 100% Picpoul. 
Intense fruity bouquet of citrus and exotic fruits. Fresh in the mouth with good acidity and the unique hint of salinity. Picpoul is an ancient Languedoc grape (and is also the name of the appellation where it is grown in Languedoc) whose name loosely translates to "lip-stinger" due to its bright acidity! This is a gorgeous white, loaded with green apple, honey dew melon, lemon and a stony-mineral note. All of these clean, crisp flavors along with a light body that ends with a refreshing finish that lingers on the tip of your tongue.  If you drink Italian Pinot Grigio, Spanish Albarino or Sauvignon Blanc from anywhere - this may be the next wine for you! Suitable as an aperitif or pair enjoyably with ceviche, vegetarian, lean fish, or grilled tequila lime shrimp!
Esprit De Silene Languedoc Blanc
45% Grenache Blanc, 35% Marsanne, 20% Vermentino "Floral-tinged notes of pureed mango and guava fill this medium-bodied, creamy white, with honeysuckle, spice and mineral details echoing on the long finish." 
90 pts, Wine Spectator 
It is said that long before the Greek civilization, the Silenians designated deities of the fields. The name Silenes came about when a rock was found in the stony Peyrals soils which looked like the head of Silenus, Tutor to the Roman God of Wine, Bacchus! Pair with seafood, fish, white meats, goat cheese, pie and fruit desserts!
Les Allies Blanc de Blancs Brut 
100% Chardonnay. Graphite and spice accents lace this tightly meshed, mouthwatering Sparkling, with vibrant acidity swathed in a fine and silky mousse, carrying  flavors of ripe melon, lemon sorbet, toasted brioche and mineral notes. A very pleasant wine! Enjoyable anytime, anywhere. Fresh and aromatic!
Santé à toi