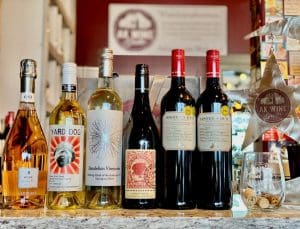 "The truth is in the vineyard, but the proof is in the glass."
-Elena Brooks, Founder & Winemaker
Sister's Run is serious fun.
Talented young winemaker Elena wears steel cap work boots every day of course, but carries a pair of high heels in back of the ute, only for emergencies, like last minute invitations to accept trophies at gala wine show dinners and the like.
Returning from a 'knees-up' at midnight, mid vintage, she managed to kick off one high heel and slip back into a boot' just as the cellar crew cried out, 'Run Sister Run'; and exactly then winemaker and label took flight!
Sister's Run Epiphany Shiraz, McLaren Vale 
Fully packed with rich fruits, sweet blackberry pie and milk chocolate, followed by fresh tannin touches and a truly extended finish!
A great accompaniment to fun conversation, burgers, grilled meats or dim sum! 
Sister's Run Old Testament Cabernet Sauvignon, Coonawarra
Edges along deep and hidden depths with traces of bright blackberry essence, cinnamon, cooked beetroot, and violets! 
The aromatics unfold slowly and meld with an underplayed oak bouquet. Herbs and fecund fields and berries hanging to the cane! 
Decant and enjoy with a good Cote du Bouef or barbecued Scotch Fillet, English mustard, too many potato chips or a small green salad! 
Walnut Block Collectables Pinot Noir
Marlborough, New Zealand 
A vibrant bouquet of ripe red fruits with underlying earthy tones and subtle spicy oak! The palate displays layers of delicate fruit and savoury characters, balanced with gentle acidity and fine tannins. 
A certified organic, true handcrafted boutique wine that will cellar for 4-5 years but is perfect to drink now! 
Dandelion Vineyards Sauvignon Blanc
Wishing Clock of the Adelaide Hills
Fresh and flirtatious! A purity of dew-dripping, freshly cropped guava, Kiwi fruit, and rock melon! Crisp with spearmint, dandelion leaf
and a soft rain-water texture that lingers across the palate! Enjoy with squid, spicy fish soup, rice paper rolls, or fish & chips! 
Yard Dog White Wine 
"The old faithful friend and beloved household pet the whole family adores. It is the quintessential companion, whatever the weather, the mood or the occasion. It is said that a dog will reflect the character of its owner and a wine will reflect the character of its maker."
Sauvignon Blanc (82%), Adeialde Hills blended with a touch of Pinot Gris (13%), McLaren Vale and a splash of textural Sémillon (5%), Barossa. 
Aromas of apple, grapefruit, and honey with a slightly herbaceous element. Enjoy white peach, apricot and various tropical notes followed by a mouthwatering lemony mineral acidity finish! 
Lamberti Sparkling Rose, Italy 
34% Pinot Bianco, 33% Pinot Nero, 33% Raboso
Beautiful coral color with aromas of rose petals and bananas, a delicate mousse, light body, a lovely balance and a fresh, lasting finish! 
Cheers!
-AK Wine Grotto Team-