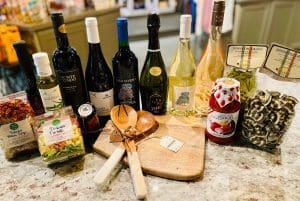 Melt away that snow! Your March Wine Club from Italy is READY TO ROCK and roll!!
Think GREEN & CLEAN! Featuring perfect early spring time wines that are organically farmed (non-certified), dry-farmed, hand-picked and vegan!
Monte Tondo Corvina, Veneto
This clean, unoaked red from Valpolicella positively sings with soil-driven slate, bright pomegranate, and potpourri!
With hints of black pepper and a supple finish that lingers with a spicy aftertaste. Very unique, complete with style and grace! Enjoy tonight!
Pairs excellent with Grilled Flank Steak, all white meats (fish or fowl), Charcuterie and Mediterranean cuisine!
Sibiliana Roceno Nero d'Avola, Sicilia
Bountiful with wild berries and a rustic edge! Hints of tobacco, black olive and savory spice;
unoaked and not ready to make nice… It's got an attitude that'll make you think twice!
Perfect with zesty pasta, roasted meats, and Neapolitan-style pizza!
Cala Civetta Cilegiolo Maremma, Toscana
Believed to be a parent to Sangiovese, Ciliegiolo (chee-lee-'eh-JOH-loh) certainly has an abundance of
cherry aromas and bursting with flavor! This grape is slightly different than its offspring: richer in phenols and darker in color.
Medium bodied with round tannins, makes it the perfect addition to any classic Tuscan meal!
Try the recipe link for Bolognese!
7 Note Brut 80% Verdicchio 10% Chardonnay 10% Trebbiano
Orange and lemon blossom tingle the senses while leading to a stony mineral palate with bright acidity and a crisp array of citrus flavors, including pineapple and lime! With a very fine line between extra dry and brut-this is also your new Prosecco substitute!
Try it with fresh oysters, tempura, antipasti or a bowl of mac and cheese!
Cala Civetta Vermentino Toscana IGT
Lush in terms of body, but clean and zesty on the palate! Warm citrus meets crisp melon, orange sherbet with linden and jasmine flowers!
Mineral driven and ready to break tradition! Perfect any time of year, it easily replaces Pinot Grigio and unoaked Chardonnay.
Enjoy with rustic soft cheeses, pasta with basil or pesto sauces, grilled prawns, and baked fish!
Sphère Rose Cinsault + Pinot Noir + Grenache
Sphère captures the spirit of the South of Francé! Elegant and friendly, in a seductive cuvée
with intense red fruit aromas. Discover the unique and airy character of its very fine bubbles, for all your moments of sharing and relaxation,
at the table or as an aperitif! Pair with octopus salad and spicy olives! Try the recipe for the Spherito rosé cocktail!
Cheers!
-AK Wine Grotto Team-