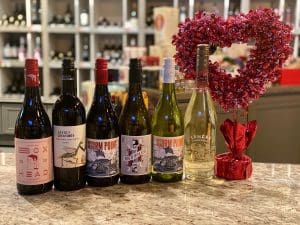 South Africa
Featuring the Swartland region,
neighboring Stellenbosch in the Western Cape! 
Timeless and exquisite wines…
Fall in love, over and over again! 
They're as as genuine as your best friend!
Storm Point Red Blend 
56% Cinsault, 29% Syrah, 15% Carignan 
Aromas of cranberry, pomegranate seed, rose stem and chai tea. 
Like misty rain on wet stone and leaves…
The palate is fresh and uplifting with notes of briary raspberry, morello cherry, wild lavender and orange peel. 
This is an ethereal, vivid red blend that is perfect for any season or occasion! Serve slightly chilled with fish, salad or charcuterie! 
It's surely going to be a new favorite!
Lovely Creatures Cabernet Sauvignon
Alluring and revealing with aromas of blackberry, mulberry and plum skin. Embraced by a backdrop of licorice, a hint of fresh sage and touch of graphite lead. The palate is velvety in texture with a lightly grippy finish bringing you back to the glass for another sip, AGAIN! Enjoy with braised meat or surf & turf! 
Perfect for the carnivore!
Box Head Shiraz
Spicy blackberry and cherry aromas are complemented by cracked pepper and dried violet flowers. 
Juicy, plump dark fruit flavors with a hint of tanned leather.
Finishes bright, with uncommon complexity and length. 
Pair with smoked or grilled meat and it's a win! 
Blackwater High Roller Sauvignon Blanc 
Aromas of gooseberry, lemongrass and honeysuckle give way to a palate composed of crisp bell pepper, lemon curd and tart green apples with a chalky and slate like minerality that lingers! 
Enjoy with shellfish, vegetarian cuisine and goat cheese!
Storm Point Chenin Blanc 
Freshly packed with nuance, playfulness and discovery!
Entangled with savory and herbal aromas,
leading to stone fruit and citrus blossom…
Vivacious with lemon zest and sprinkled with sea water! 
Open your eyes to the beauty and sophistication of
South Africa's beloved and most widely planted variety! 
A fantastic aperitif but accompanies easily!
(We love it with Thai food and curry!) 
Sphere Chardonnay Lightly Bubbly
Blooming with delicate white flowers, cream and citrus…
Tiny bubbles dance on the palate and caress!
Pour yourself a Chardonnay bath and enjoy it's finesse!
Cheers!
-AK Wine Grotto Team-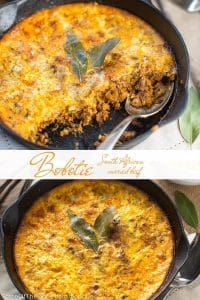 Bobotie - A Classic South African Casserole
This classic dish from South Africa, Bobotie (pronounced ba-bo-tea), is made with ground beef seasoned to perfection and a creamy, decadent topping. It is rich, savory, spicy, aromatic, and zingy. A comforting meal, full of the flavors of Africa!