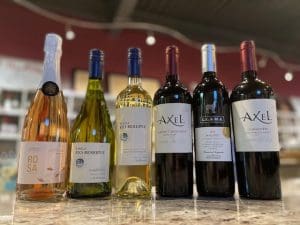 South America
Featuring fantastic Chilean wines that share the same vision: 
"Sustainable grapes yield the cleanest and most pure varietals."
"Always Explore" 
Axel wines are hand harvested, certified sustainable and vegan
from the Maipo Valley and Colchagua Valley!
They are founded on the belief that through
exploration come great wines!
Tinga Rio Reserve wines are named after the river which runs through their certified sustainable vineyards in Colchagua Costa. 
The Tinga river transports silts and clays into their free-draining granitic soils while also naturally irrigating the vines. 
This method allows the vines to be watered less frequently creating smaller yields of higher concentrated wines!
Axel Cabernet Sauvignon 
93% Cabernet Sauvignon, 4% Syrah, 3% Carmenere
Classic and elegant in scarlet red color-
Notes of ripe black currant and mocha, with structured tannins
and a supple, round finish.
Aged 14 months in French & American Oak and at least an additional 6 months in the bottle.
Like that little black dress-it never goes out of style! 
Axel Carmenere 
Big and juicy with lovely notes of delicate spice and chocolate
with chewy tannins and a stylish finish!
18 months in French and American oak, plus a minimum of 6 months in the bottle. 
Never had Carmenere? 
Well, now is your chance to taste what Chile is know for!
Trust us if you dare, welcome to your new love affair! 
Belasco Llama Old Vine Malbec 
LLAMA as its namesake-this wine embodies
the distinctive spirit of the Belasco vineyards in Argentina,
spanning the foothills of the Andes. 
A modern wine embodied with rich, fruity aromas of cherries, blackberries and plums-against a background of fine toasty hints that suggest profound flavor with time well spent! 
Aged for six months on 3-year-old French Oak Barrels and then placed in bottles to age for a minimum of six additional months.
A great match with any type of hard cheese such as Manchego,
or barbequed meat dish with cracked black pepper!
Tinga Rio Reserve Chardonnay 
Aromas of ripe tropical fruits like pineapple and hints of banana! 
These flavors are integrated with Tahitian vanilla cream
and finishes with balanced fresh acidity!
Aged 6 months in Stainless Steel barrels and 2 months on French Oak. From fish tacos to pasta and more-it'll satisfy your craving for warmer weather for sure! 
Tinga Rio Reserve Sauvignon Blanc 
Light greenish-yellow in color, revealing notes of citrus and minerality with a clean, crisp finish!
Aged 6-8 months in Stainless Steel barrels. 
Refreshing and lively, never bored! 
Just chill and serve-need we say more?
Belasco "ROSA" Brut Nature Sparkling Rose Of Malbec
Vivacious, bright and crisp-crafted from the finest grapes
from 100-year-old vineyards in Alto Agrelo, Lujan de Cuyo.
Brilliant floral aromas and deep, Malbec flavors of cherry,
plum and strawberry.
Enjoy on its own or with lighter fare…
Try it with a Cobb salad or goats-milk cheese!
Cheers!
-The AK Wine Grotto Team