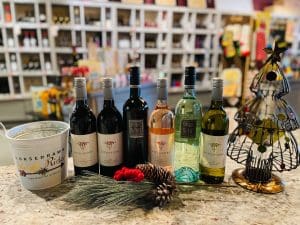 "What to sip…" you wonder?
Let's take a dip "Down Under!"
Featuring Pitchfork, Margaret River &
Berton Metal Label Vineyards! 
"Celebrating friends, food and lively conversation…unpretentious and contemporary!" 
Pitchfork wines are vegan & use lightweight bottles,
saving 21% glass resulting in a lower carbon footprint! 
"Lean + Green"
Berton Metal Label produces exceptional stand alone varietals that are forged within the Padthaway region, rooted atop meters of limestone bedrock, known as the Limestone Coast. 
Great Australian wines that pair with all your holiday feasts! 
Or enjoy a night in, watching Hallmark movies! 
Berton Metal Label Cabernet Sauvignon 
Impressing with impenetrable violet hues! 
Intense aromas with subtle fine tannins…
Marrying black currant with sweet blackberry jam, and a touch of vanillin oak! 
Pitchfork Red Blend 
Cabernet Sauvignon 85.5% Merlot 14.5%
Deep forest berry fruits with chocolate mint aromas fill your glass a rich, soft easy to drink attitude-pairs easily with any type of mood! 
Pitchfork Shiraz 
Displaying lifted violet aromas, dark cherry and plum with peppery hints. A fleshy palate full of ripe fruit and a smooth, lingering finish. 
Berton Metal Label Sauvignon Blanc 
Aromas of green grass, gooseberry and sweet capsicum with underlying tropical notes culminating in a zesty palate that displays crisp snow pea with hints of passionfruit and a delightful fruit depth that persists to a lingering finish.
Pitchfork "Pink" Rose 
Bright, clean and lively with an inviting berry nose! Vanilla bean ice cream and fresh strawberries are a Sugar Plum Fairy's dream!
Pitchfork Chardonnay 
Bursting with tropical flavors and freshness.
A touch of oak lends a creamy finish and highlights our favorite stone fruits!
Happy Holidays!
-AK Wine Grotto Team!