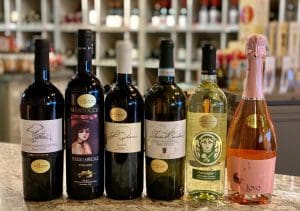 Feelin' those cooler temps and snuggling in? 
Italian wines are all you need,
To complete this Fall transition!
With organically farmed, dry-farmed and sustainable practices…
Just pop the cork and pair with your favorite pasta dishes!
Castro di San Silvestro, Marche
90% Montepulciano 10% Sangiovese
Barrel aged for 10-18 months, 1 month in steel
and bottled for 6 months.
Dark cherry and plum with woody, floral hints
Bold, flavorful with lots of layers and a spicy finish!
Poggio Apricale, Tuscany
85% Sangiovese 10% Merlot 5% Colorino
Featuring classic Tuscan aromas…
Morello cherry, sage, blackberry,
and warm terra cotta will fill your glass!
Supple with smooth tannins and a long finish.
A small production wine from a very small estate, this is artisanal wine at its charming, low yield BEST!
La Quercia Aglianico, Puglia
100% Aglianico
Deep in color with fresh plum and white pepper
Enveloping mint and sweet tobacco flavors!
Unoaked and richly unique…
Medium bodied with a lush, well-coated finish!
Pair with pomodoro pasta or grilled meat,
Take one home, it's a real treat!
Tenuta del Cavaliere Verdicchio, Marche
Straw yellow with greenish highlights,
Flowery with almond blossom and honeyed citrus!
Sophisticated and balanced,
Enjoy fresh pear and melon with a round, creamy finish!
Palama Verdeca Salento, Puglia
An abundantly aromatic white varietal from sunny Puglia!
Highly flavorful with crisp, lemon zest!
Notes of sea salt and green herbs
Late ripening with lovely minerals that play
Chill yours and enjoy today!
Prosecco Rose Brut Millesimato
Bright and light pink with lively, small bubbles
Lifting aromas of citrus, wild berries and fresh cut flowers!
Screaming, "Girls just wanna have FUN!"
It's perfect as an aperitif or any occasion!
**WINE SALE**
$10 bottles are on display!!
Shop NOW through HALLOWEEN Day!!
Choose Reds, Whites, Sweet and Rose…
Don't miss out, grab yours TODAY!