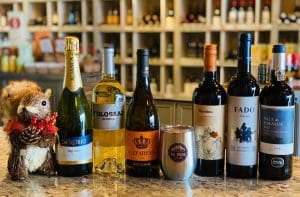 September Wine Club
As Summer dwindles and Fall begins…
Routines and schedules are easing in 
But that doesn't mean the fun has to end! 
Featuring Portugal!
So many unique varietals we love to recommend! 
Vale de Cavalos Vihno Tinto 2017 
50% Touriga nacional, 20% Touriga franca, 20% Tinta roriz, 10% Tinta barroca
*92 points, says Wine Enthusiast!*
20% of the wine is aged in second-year French oak barrels.
80% remaining in stainless steel.
Great density with rich black fruit, spice and elegance…so smooth, with an earthy appeal.
Enjoy with braised beef, pasta, or charcuterie!
Mmmm …I'll take mine with Stroganoff, please! 
Touriga Nacional: Portugal's great black grape, providing the heady perfume for the best ports and now increasingly being made as a dry table wine.
Tinta Roriz: called Tempranillo in Spain, in Portugal it is used widely in Port making and also in the production of still reds in the Alentejo where it is called " Aragonês," in Dao and the Douro for table wines.
Tinta Barroca: ancient grape varietal, grown in the Douro for hundreds of years, one of the blender grapes for most ports. Interestingly this grape is being grown widely in South Africa.
Fado Alicante Bouschet 2017
"A celebration of music, wine and life"
Succulent dark fruit characters balanced with flavors of dried violets, prunes, chocolate, vanilla and spices…
Where fruit meets divine intensity, it's your destiny!
If you love Grenache, this is your new BFF! Enjoy anywhere, anytime!
Alicante Bouschet or Alicante Henri Bouschet: a wine grape variety that has been widely cultivated since 1866. It is a cross of Petit Bouschet and Grenache.
Merino Old Vines 2018
50% Alicante Bouschet, 30% Aragonez, 20% Touriga Nacional 
9 months oak aged
Ripe with mixed berries, plums and raspberries
Supported by integrated tannins and fresh acidity. 
Curvy body with lingering cocoa and baking spices! 
Grab the BBQ, grill up blue cheese burgers, or enjoy with chili...
Simply cozy up to a camp fire with s'mores and you're ready!! 
Aragonez: the same grape as the Spanish Tempranillo
Bacalhoa Catarina 2018 
63% Faernão Pires, 28% Chardonnay, 9% Arinto
Buckle up and get ready for a ride!
Featuring a nose with lemon, grapefruit, citrus & lime...
Luscious apple, pear, peach, apricot, orange, pineapple, kiwi,
A mouthful of buttercream, vanilla, & tangerine!
Pair joyously with pasta, pork, lean fish and shellfish! 
With hints of rose water... just sip and savor!
Faernão Pires: reminiscent of Muscat, this is an aromatic grape used in the Douro, Setúbal, Alentejo,
and other regions. Called "Maria Gomez" in Bairrada
Colossal Reserva  *89pts, WE Best Buy!*
Blend of Arinto & Chardonnay 
Crisp, balanced & very aromatic… 
Bouquet of citrus & tropical fruit with fine oak hints!
Shows great intensity, balanced freshness and minerality
Silky to the finish, it'll go nicely with Mediterranean dishes! 
Arinto: Produces fresh, tense and vibrant wines with high natural acidity and marked mineral profile with good ageing potential. Unyielding acidity is Arinto's calling card, and it is precisely for that reason that it is described as being the Alentejo's best blending variety.
Alianca Danubio Brut
Pale citrus color, fruity aromas with exotic fruits;
including mango and passion fruit! Persistent to the finish! 
Include with Apple Cider Mimosas, it's delish!
Cheers to colorful changes and this season's best! 
-The AK Wine Grotto Team