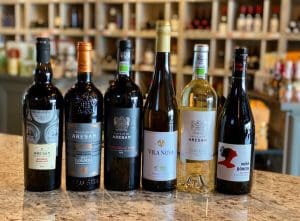 Featuring Castillo De Aresan!
100% Vegan and Organically farmed wines…
Just fire up the grill, turn up the Flamenco music, and brace yourself for BOLD rich flavors and the spirit of TORO!
Including Tapas and more… Spanish wine is the perfect
end of Summer and Fall pours!
Big, juicy reds will pair well with roasted pork, chorizo sausage, and jamón… while the crisp, fruity whites are excellent for seafood inspired dishes!
Try the recipe link for Paella and pair it with sangria!
Tempranillo Toro
A lovely combination of fruit and sweet spice;
Packed full of strawberry, raspberry and cherry flavors that is well balanced, round & elegant…
Tasty with notes of cocoa and fresh tobacco,
It's ready for any occasion!
La Mancha
60% Tempranillo
30% Cabernet Sauvignon
10% Petit Verdot
Dark and expressive with notes of blackberry, black currant and vanilla…
Richly concentrated; grilled meats will pair nicely with this gourmet palate!
Cozy up with a wine retreat!
Bourbon Barrel Aged Cabernet Sauvignon
A deep, dark violet color and seductive bouquet; leaping with black fruits, toffee & coconut!
Toasted & smokey worlds collide from the
6 months aged in old bourbon casks!
Dense as devil's food chocolate, full-bodied and supple with a finish that is
"OH, SO ENDLESS!"
Verdejo
Citrus, minerals and lively with fruit!
With crisp notes and apricot cues,
It's joyful and perfect for a picnic or golden sunset near you!
Vila Nova Vinho Verde
Fresh and stunning, plus hints of grapefruit!
Light pale yellow in color, with aromas of peach & tropical fruit!
Young & vibrant with a gorgeous finish that'll adore you!
Nina Bonita Red Sangria
A fun and flattering wine cocktail that's ready to party!
Zesty orange and lemon combine with salivating fresh grapes that give an explosion of flavor!
Light bodied and semi sweet…
Serve chilled, over ice and with fruit slices;
Such as apple, orange, pineapple & peach!
Cheers!
The AK Wine Grotto Team