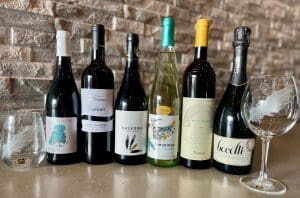 "Birds of a feather flock together"
True to form, we surrender to what is familiar.
Individual and unique in our own ways, we divide. 
With the wind beneath your wings,
Here's a chance to leap and fly  
With July Wine Club, you'll be soaring high!
Macedon Pinot Noir 
From the country of North Macedonia, it is named for
Alexander the Great (the original "Macedon"), and hails from an area known as the cross-roads of the ancient world.
Sharing the same latitude band as Burgundy and Russian River,
40+ year old vines grow where two major weather fronts collide;
the Aral Mountain continental & the Greek Aegean, yielding virtually no rain.
Sustainably farmed, including dry-farmed; picked by hand
The result is a wine of terrific elegance and complexity,
rich yet linear; pretty, but with power! 
Red berries, vanilla and a touch of oak
Supple and smooth with a mineral-driven finish.
Proud to boast would be an understatement!
Cala Civetta Sangiovese
90% Sangiovese
10% Alicante
Organically farmed (non-certified), dry-farmed, and picked by hand
This Tuscan blend provides a pleasing mélange of tart,
dried cherry and liquid smoke, with a faint chalkiness
With a finish that is pleasingly dry and briny.
Give it a swirl and succumb to your weakness!
Fantinel Cabernet Sauvignon
Bright ruby red with garnet tints, 
filled with hints of undergrowth and spices. 
Bold, leathery with eucalyptus mint!
Aged slowly in oak barrels for 18 months,
giving an elegant gentleness.
Enjoy with roast meat, poultry, game;
meat braised in this wine is extraordinarily good! 
Fantinel Pinot Grigio 
Precious, slightly coppery white with flowery scents
combined with almonds and walnuts, and balanced with excellent structure. 
With a strong personality it's great to pair with
hors d'oeuvres, charcuterie, soups and risotto! 
Garganega Frizzante
100% Garganega
Organically farmed (non certified), including dry-farmed;
grapes picked by hand; certified vegan.
In Steel for 3 months and Bottled for 3 months
White flowers, green apples and bread crust 
Clean and bright with tiny "frizzante" bubbles, 
offering a fun-loving, medium finish!
Bocelli Prosecco Extra Dry
Made by two families - those of tenor Andrea Bocelli and Prosecco guru Salvatore Lovo - this bubbly is crisp, mineral-laden, and refreshing.
With beautiful, persistent perlage, it's like a kiss of citrus and peach in a glass!