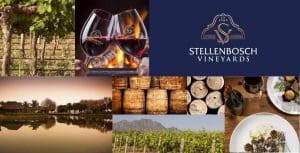 "The best of Stellenbosch captured in a bottle"
With a proud heritage as the most prestigious wine region in South Africa with an ideal climate and soil for winemaking,
Stellenbosch Vineyards captures the essence of Stellenbosch and offers the ultimate pedigree of this region.
Here's a taste of South Africa, brought home to you in Alaska!
This Month's Featured Wines
Shiraz
Barrel aged for 18 months in French oak barrels!
Juicy plum, red berries and white pepper
Layers of dark fruit and spices with a seamless finish
Ready to drink now, or let mature another 7 years!
Enjoy with brisket, hearty stews or Potjiekos *see recipe link*
Cabernet Sauvignon
Rich black currant with a touch of herb,
Velvety tannin structure and well-balanced;
Integrating rustic oak flavors!
Pair with roast or grilled beef, rack of lamb
Pinotage
Made from 20 year-old bush vines!
Embodied with black fruit, smoked meat
and hints of truffle!
Enjoy with red meats, poultry or spicy curries!
Sauvignon Blanc
Ripe gooseberry and crisp, fresh greens!
Full, rich palate with an indulging finish
Pair with salads, vegetables and sunny decks!
Chenin Blanc
Made from 15 year-old bush vines!
Resonating flavors of apricot, pineapple, honey
and vanilla
Barrel aged for 5 months in French oak barrels
An ideal match for spicy curries or as an aperitif!
Also pairs easily with most fish and poultry
Moscato
Delicately sweet & sparkling!
Vivid with spiced peaches, rose petals and ginger
Enjoy with pastry, blue cheese, fruit based & creamy desserts!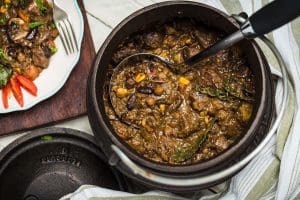 In South Africa, potjiekos /ˈpɔɪkiːkɒs/, literally translated "small pot food", is a stew prepared outdoors. It is traditionally cooked in a round, cast iron, three-legged pot, the potjie, descended from the Dutch oven brought from the Netherlands to South Africa in the 17th century and found in the homes and villages of people throughout southern Africa. The pot is heated using small amounts of wood or charcoal or, if fuel is scarce, twisted grass.
https://pulses.org/recipes/worlds-greatest-pulse-dishes/recipe/261-traditional-potjie